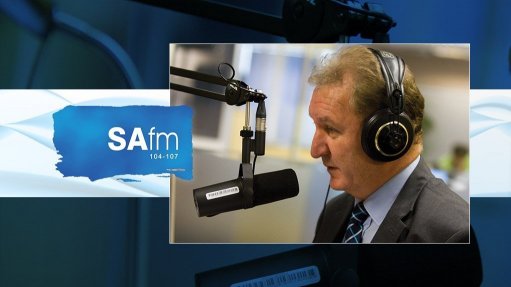 Every Friday, SAfm's radio anchor Sakina Kamwendo speaks to Martin Creamer, publishing editor of Engineering News & Mining Weekly. Reported here is this Friday's At the Coalface transcript:
Kamwendo: A very promising new platinum operation emerged this week with the first tons being produced by the K4 shaft in Marikana.
Creamer: Yes, this is the sixth shaft at Marikana, there are a lot there. This has been an investment of R4-billion, the first tonnes were hoisted this week. It has created 4 000 jobs at a time when jobs are very valuable. It's very promising also from a quality point of view. This is regarded as a top-tier asset and it is something that has been pre-developed, because it was acquired from Lonmin by Sibanye-Stillwater. Now, they brought through the final development of this. It feeds into a rich area, the resources there, I think total 128-million ounces of PGMs. So this can go on for another 50 years and it is good news.
Kamwendo: More than R250-million was raised this week by a company that is going to explore for platinum group metals on the eastern limb of the PGM-rich Bushveld Complex.
Creamer: Exploration is vital at the moment. It is like research and development in pharmaceuticals, you have got to keep researching and developing, and this you do through drilling into the surface. South Africans are very slow at this, we have had very little investment in exploration. What has happened now is that this company, Southern Palladium has raised this capital in Australia. It is bringing the money from Australia to drill here in the Bengwenyama projects. The Bengwenyama community holds 30% of this. They have got 12.5% of the listed shares in Australia, in Sydney. There is also an application for a secondary listing in Johannesburg. This is what we are seeing all the time, secondary listings. So we have got to do something here. Trevor Manual, when he was Minister of Finance, wanted to introduce an incentive to create exploration, but it just never came about. Now these other countries are able to do it and they will take the slices of the cake that we could be having here. Hopefully at some stage, we will get exploration incentivised, but in the meantime, it is great that people from other countries are investing in our country.
Kamwendo: The CSIR this week called on all of South Africa's mining stakeholders to collaborate to uplift the industry's lagging competitiveness.
Creamer: That is a signal of caution. CSIR CEO Dr Thulani Dhlamini put out an op-ed this week in which he said Australia, Canada and China are investing big in what he calls RDI, research, development and innovation. This is actually putting our cost competitiveness in South Africa now, under the spotlight. Fortunately, he is bringing together a lot of entities to try and collaborate, to do research and development work. Because, our mines are growing in depth, they are getting deeper. A big percentage of our mines are now deep. We have got low productivity with high cost of production. So they have set up a learning factory and an underground test facility. CSIR is cooperating with Minerals Council South Africa, a lot of equipment suppliers. This is centred on the Mandela Mining Precinct. Hopefully, we will catch up again, because they have got a new roadmap to boost what they call RDI, research, development and innovation.
Kamwendo: Thanks very much. Martin Creamer is publishing editor of Engineering News and Mining Weekly.